Size: 83,982 ha
Year of foundation:
1981
Founder:
Republic of Slovenia
Administration:
Triglav National Park Public Institute
Importance:
330 natural values, 743 caves, Natura 2000 area
International importance:
2003 – UNESCO MAB biosphere area (the entire Julian Alps and a part of the Karavanke Alps);
2004 – Diploma of the Council of Europe;
2009 – Certificate of the Europark Federation for the Cross-border eco-region of the Julian Alps (along with the Nature Park Prealpi);
2014 – Cross-border pilot region for ecological connection in the Alps, declared by the Alpine Convention (together with the Nature Park Prealpi)
CONTACT:
Triglavski narodni park
Ljubljanska c. 27
4260 Bled
+ 386 (0)4 578 02 00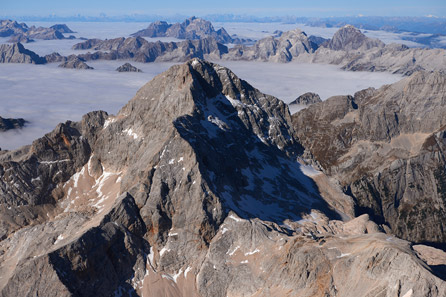 Triglav National Park covers almost the entire Slovenian part of the Julian Alps. It is a typical Alpine park with Slovenia's highest mountains. The Triglav National Park, named after Mount Triglav, the highest mountain and national symbol of Slovenia, is the only national park in Slovenia. Its protection started in 1924 when the first protected was established as the Alpine Conservation Park in the Triglav Lakes Valley.
The biodiversity is among the highest in the Alps due to the geological composition of the soil and the mixing of the impacts of the climate between the Alps and the Mediterranean. There is the European watershed in the park running between the Adriatic and the Black Sea. The greatest wealth is represented by the crystalline waters and alpine flowers. There is the source of our most beautiful river, the emerald Soča, the majestic waterfalls and valleys of the Julian Alps, there are numerous gorges, karst peculiarities and glacial lakes. The national park boasts with vast forests and highland meadows, plateaus and peat bogs.
The geomorphological features result in numerous endemic flowers (Triglav hawksbeard, Julian poppy, monkshood and Zois' bellflower in rock crevices). Four flowers were named after Mount Triglav: Potentilla nitida, Eritrichium nanum, Gentiana terglouensis and Crepis terglouensis. The wealth of flora is completed by diverse fauna, including the endemic marble trout in the Soča River.
The cultural heritage of the Triglav National Park comprises archaeological, ethnological, architectural, urban, religious, cultural and historical heritage. There are 300 units of fixed cultural heritage registered. The Julian Alps are the boundary of two building cultures, the culture of wood on the northern side and the culture of stone in the Soča Valley region.