Size: 140,000 ha
Year of foundation: 2014
Founder:
Pivka Municipality
Administration:
Institute for tourism and heritage management Pivka
Importance:
117 natural values, the whole area of the park is of ecological importance and completely Natura 2000 area.
CONTACT:
Krajinski park Pivška presihajoča jezera
Slovenska vas 10
6257 Pivka
+ 386 (0)31 775 002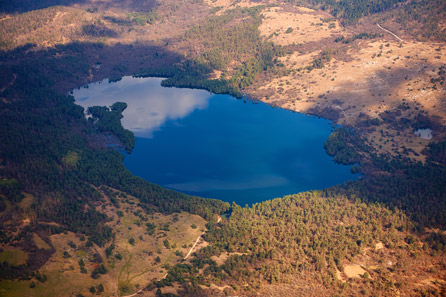 The land of the Pivka intermittent lakes has many names. They call it the Pivka Basin, Pivka Valley, Pivka Region or simply Pivka. Pivka is also the name of the town, river and a bird. They also call it the land of Martin Krpan, because this is where the sturdy man lived, and thus he was also integrated into the coat of arms of the municipality.
The main stars of the landscape, however, are the Pivka intermittent lakes. There are 17 of them in the valley. The mysterious lake landscape changes every day, so we can visit it again and again and it will always be different. The rich cultural heritage, which reaches all the way back to the Stone Age wrote many interesting stories, which are worth exploring.
Nature, being the greatest of artist, makes wandering around the park rewarding all year round.
The area is renowned for its large biodiversity; researchers have counted 182 species of plants, 211 species of beetles, 106 species of diurnal butterflies and 133 species of birds. This is also the living space for large beasts, such as the bear, wolf and lynx. Many species of flora and fauna, which thrive here, are endangered in other areas or have even already disappeared. 99% of the area is included in the Natura 2000 network.
To a large scale the well-preserved nature in this area is dependent on farms. As many as 40% of the agricultural areas are farmed ecologically, while the Slovenian average is 7%. The use of space is dictated by the landscape, because shallow soil and karst surface do not allow intensive agricultural use. Therefore sheep and goats, cattle and horses graze at the lakes and on the village greens, so that the landscape does not become overgrown.