Size: 401 ha
Year of foundation:
1996
Founder:
Republic of Slovenia
Administration:
Škocjan Caves Park, Slovenia
Importance:
52 natural values /whole area of the park is of ecological importance, part of Natura 2000 area (SPA), part of Natura 2000 area (SCI)
International importance:
UNESCO – 1986 inscribed on the World Heritage list;
UNESCO – 1999 became part of the Ramsar Directory of Wetlands of International Importance;
UNESCO – 2004 became part of MBA network as Karst biosphere area
CONTACT:
Javni zavod Park Škocjanske jame
Škocjan 2
6215 Divača
+ 386 (0)5 708 21 00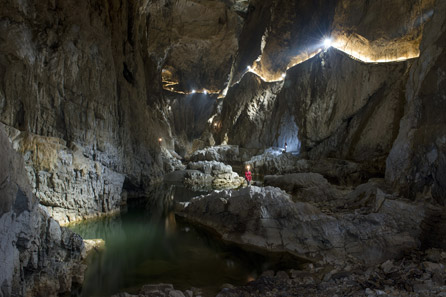 The Škocjan Caves Regional Park lies in the Classical Karst. The caves, as the key natural monument of the park, were included in the UNESCO List of world Heritage Sites in 1986 and will leave no visitor indifferent with their vast chambers and a real subterranean "canyon".
Škocjan Caves are also very famous for the pioneering research of the subterranean features of the Karst dating back to the times when people were penetrating miles deep into the dark interior of Karst in wooden boats with nothing but torches in their hands. Unusual but rich archaeological findings are an evidence of the cultural importance of the caves in prehistoric times. Besides, the losing stream part of the River Reka with the deep collapsed caves, Velika dolina and Mala dolina, is extremely rich or unique from the biodiversity point of view since due to the special micro-climatic conditions, a small area features typical alpine as well as Mediterranean plants.
The rich natural heritage is completed by the colourful blanket of dry Karst grasslands on the surface. We like to say that one Karst meadow features more species of butterflies than the entire United Kingdom. Especially the number of moths is large. A Karst speciality are ponds or pools, which are natural or artificial basins in which rainwater collects. They used to serve as drinking spots for the cattle.
Not only the protected area of the park, but also its area of influence features a rich cultural heritage reflected in the typical Karst architecture, numerous ethnological and historical monuments as well as pieces of art. There are also many archaeological sites reaching as far back as the early Stone Age. Some objects have found their place in museum collections within the park that will enrich the experience of visitors from around the world.