Size: 2,431 ha
Year of foundation: 1987
Founder:
Mozirje Municipality
Administration:
Solčava Municipality
Importance:
43 natural values / whole area of the park is of ecological importance/ Natura 2000 area
International importance:
First Prize in the category Protected Areas – CIPRA – Future in the Alps 2005 / EDEN 2009 - Solčavsko
CONTACT:
Občina Solčava
TIC Logarska dolina
Logarska dolina 9
3335 Solčava
+ 386 (0)3 838 90 04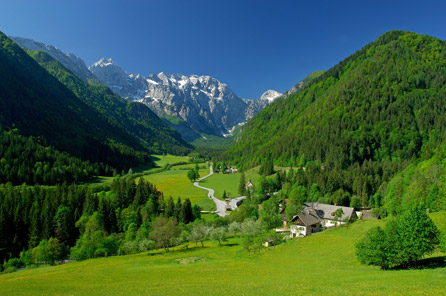 Many would agree that the Logar Valley, carved into the heart of the Kamnik-Savinja Alps, is one of the most beautiful glacial valleys in the entire Alps. The 9km long and up to 500m wide valley was re-shaped by a glacier, and became a landscape park in 1987 due to its numerous natural and cultural attractions.
Besides the valley, the landscape park also encompasses a wreath of mountains, all higher than 2,000 meters (Krofička, Ojstrica, Planjava, Brana, Turska gora, the Rinkas), which embrace this picturesque Alpine oasis. The valley is divided into three areas. The upper area (Kot) is covered in forest, while the middle area (Plest) and the lower area (Log) encompass typical grassy plains, the landscape value of which is emphasized by mighty individual trees.
The valley is of tectonic origin, while it has been finally shaped by glaciers. The result of the natural processes are numerous natural attractions in a relatively small area, such as waterfalls (more than 20), glacier formations, alluvial fans, natural windows, karst caves, other typical caves, solitary mountains, screes and glacier boulders. Above the gable of the valley and under the Okrešelj glacier amphitheatrically cirque, there is the spring of the River Savinja, which is the longest Slovenian river, both springing and out falling on Slovenian territory.
As a reflection of the favourable living conditions, the picturesque natural park is completed by diverse flora, fauna and habitat types. In the scree and rocky slopes of the Logar Valley we can admire numerous endangered and protected mountain flowers, such as the lady's slipper orchid, Zois' bellflower, edelweiss, Carniolan lily, auricula, Kamnik orchid and other flowers. In the animal world we can encounter the chamois, ibex, black grouse, western capercaillie, peregrine falcon, and the golden eagle also nests here.