Size: 20,600 ha
Year of foundation:
1981
Founder:
Republic of Slovenia
Administration:
Public Institute of Kozjansko Park
Importance:
89 natural values /almost whole area of the park is of ecological importance/ Natura 2000 area (SPA) for 12 bird species/ Natura 2000 area (SCI) for 15 animal species and 7 habitat types
International importance:
UNESCO – 2010 became part of the MAB network as a biosphere area Kozjansko – Obsotelje
CONTACT:
Javni zavod Kozjanski park
Podsreda 45
3257 Podsreda
+ 386 (0)3 800 71 00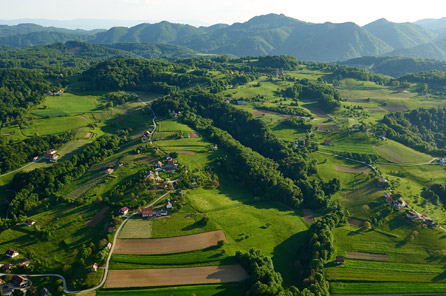 The landscape diversity of the Kozjansko Region and the Sava Hills, the Kozjansko Hills and the Sotla Plain in the east of the country is the basis for exceptional biodiversity. The Public Institute, which manages the park, has developed some very good park management practices in cooperation with the locals, including the traditional fruit farming.
Kozjansko Park with its landscape diversity and extreme biodiversity is interesting for visitors during all seasons of the year. In spring, it attracts with its blooming orchards and meadows, in summer with activities, in autumn with the Kozjansko Apple Festival and in winter with serenity. The famous good and open hearted Kozjansko locals are also very welcoming.
The Kozjansko Park is one of our oldest and largest protected areas. From the border river of Sotla, where we can find partially well-preserved riverside vegetation and river backwaters the surface rises via agricultural land to the mountainous world, vegetated by beech and oak forests. This landscape is semi-surrounded with the Sava Hills; in between lie the Mid-Sotla Hills, full of fruit growing and viticulture.
The stars of the park are the apples of the ancient species of high trunk meadow orchards. The old species do not need mineral fertilizers or pesticides to bear fruit. Thus the landscape remains fertile without chemicals. In Podsreda, which is constructed as a medieval market, the legendary Kozjansko Apple Festival takes place every second weekend in October; this is one of the largest and best visited environmental events in the country.