Size: 4,331 ha
Year of foundation:
1998 / 2006
Founder:
Municipality of Črnomelj 1998 / Government of Republic of Slovenia 2006
Administration:
Public Institute of the Kolpa Regional Park
Importance:
80 natural values / the whole area of the park is of ecological importance, part of it is Natura 2000 area and Natura 2000 are (SPA) for 12 animal species and 4 habitat types
International importance:
EDEN 2010 – Kolpa River
CONTACT:
Javni zavod Krajinski park Kolpa
Adlešiči 16
8341 Adlešiči
+386 (0)7 356 52 40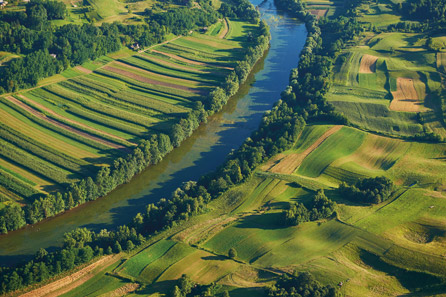 The exceptional nature at the River Kolpa is complemented by the rich cultural heritage, an interesting history and the inhabitants, who have given it a special mark. Once you bask in the beauty of the exceptional Bela krajina river – the Kolpa, the silver birches, the ferns, the grasslands and the hills, you never forget them again.
The most important part of the Kolpa Landscape Park, which is located in the south of the country, is the clean, warm and biodiverse River Kolpa, which changes its character several times during its flow: from a mountain torrent to a lazy flat country river. Not only flooded plains and steep hills, there are also the Bela krajina ferns stretching along the borderline river, which contain a rich fauna and flora, as well as more than 70 natural values and 16 natural monuments. The area also boasts the presence of large wild animals: the bear, the wolf and the lynx.
The typical mark is given to the park by the mosaic cultural landscape with its sinkholes, grasslands and orchards, and mostly by the inhabitants, who have preserved the rich heritage. Among the 42 cultural monuments the Marindol Ferns stand out — they intertwine nature and the cultural landscape and are a product of human activity. The typical Bela krajina landscape is overgrown with ferns, silver birches and junipers.
Besides the rich architectural heritage, including old castles, churches, chapels and workshops, at the river there are also the ruins of 16 mills and sawmills. Some still defy the ravages of time and in three of them the millwheel still occasionally runs to grind grain, so visitors can see the work process. The cultural heritage of the Kolpa area is also indicated in non-material cultural heritage (songs, dances, and customs).